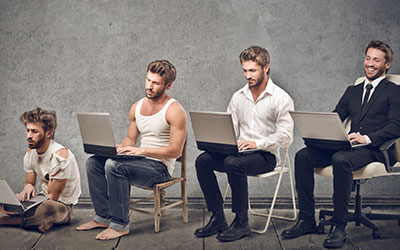 Haven't got a clue of how to set up your very first website? As a symbol of successful career and personal achievement, a professional website that looks fantastic, organized and functions perfectly means a lot in the mind of every visitor. So you should never get sloppy when building it.
There are some website tips and rules herein below that you should follow, which come from many great minds in the website development industry. They are extracted from countless valuable experience and should be recommended to people who are willing to devote time and efforts to get their website launched.
Set Main Goal of Your Website
Business websites differ form each other because they have different purposes. So before you start your website, make sure you have a clean goal of what you are pursuing. And it's better if you make the goal measurable.
Design the Website
Keep It Simple, Fresh and Unique
Instead of using more than enough elements to make the website "dazzling", you should keep it simple with several steady colors, textures and font types & sizes.
Match Your Branding
When you are designing your website, or simply changing the logos or banners, design with your branding in mind. Integrate your own branding style into the design to develop brand awareness among your visitors.
Use The Colors Right
Colors do have meaning to all people, internationally. So except for what you want, you should consider the fondness in color of your major customers. Some basic research in color symbolism and color psychology may bring potential benefits.
Showcase Your Products/Services
Your homepage should clearly show you key products/service with appropriate and eye-catching photos, images or videos.
Include Call to Actions on All Pages
On all pages of your website, include call to actions, making your visitors act on something that directs them to the ultimate action you want them to take.
Cut Distractions
Playing music on your website may not be wise; meanwhile, a page with splash may prevent people from accessing what they want. These elements should be used for certain types of websites while on most of other sites, they are either too annoying or distracting to get your visitors to do what you want them to do. Remove all of them as well as similar distractions.
Use Attractive & Valuable Images
Always remember that images speak louder than words. Attractive imagery will draw the immediate attention of your customers. Yet, filling your website with those free stock photography that your visitor may have seen many times won't do any good. So, make sure you make a small investment in valuable images, otherwise you should just go without images.
Incorporate Directional Cues
You design should include a human face gazing at the information that you want your visitors to focus on, or use directional arrows and other similar visual cues to motivate the visitor to notice what you want to tell them.
Limit Options to Stimulate Interactions
Overmuch options may lead to "action paralysis" of your visitors. List only the most important options and it is wise to create another page for the extra options instead of pouring them into one page/menu.
Use Large and Concise Headlines
Headlines are one of the most important and most viewed items on your website. They should clearly show what your website and pages are about. Make sure they are obvious and concise.
Embed Video When Possible
You are always allowed to add video content to enlighten your website because relevant, high-quality and quick-cut video can drive traffic, demonstrate your product, convey data in much less time, make your visitors focus clearly, make your website sticky and make your brand seem bigger.
Make Your Website Load Fast
No one wants to waste time on loading pages – site speed is somewhat crucial. You should follow these listed things to make the loading faster:
Change or upgrade the hosting plan;
Eliminate extra HTTP requests;
Optimize images to make them Internet-friendly;
Reduce the overall amount of plugins;
Reduce external scripts; optimize JS/CSS;
Enable caching for repeat visitors;
Reduce website baggage like accumulated code, massive databases and backups, etc.;
Use a CDN (Content Delivery Network) to deliver content rapidly to users anywhere in the world
Create Good User Experience
Organize Your Website
Mostly, you visitor are looking for specific info instead of reading the whole page. Present the info in a well-organized way.
Make It Easily Accessible for everyone
When building the site, consider the visitors with disabilities like color blindness as well as visitors who have slow network connection
Make Typography Easy to Read
Make the typography well spaced and easy to read and meanwhile, deal with the text-heavy places on your website by using sufficient white space which can enhance reading comprehension.
Condense Your Menu
Clean navigation can make things easy to find. So consider condensing your menu by removing extra items under each heading of the navigation bar.
Always Answer "why?"
If you want your visitors to do something, e.g., sign up or provide their emails, you should avoid using simple words like "sign up" or "enter email". Tell your visitors your purpose, e.g., "Sign up for new releases and monthly specials". Also, do not simply put your Twitter/Facebook button there – tell your visitors what they can get from following your social accounts.
Give Your Visitors Closure
When your visitors are doing something on your website, e.g., purchasing a product, you should clearly tell them that the purchase is successfully done after payment. Make your visitors satisfied by giving a closure to every of their meaningful actions.
Make All Links Work & Spell Correctly
Invalid links, spelling errors are signs of poorly maintained websites that even their owners don't care for. Use necessary tools like HTML validator, link checker as well as grammar and spelling checker to help eliminate them on your website.
Add Industry Resources
On a professional website in a certain industry, quality industry resources like reports, news, surveys, etc. are always indispensable. Include those resources on your website to show your expertise.
Get Social
Interact with your visitors by motivating them to follow your social accounts. Master the social accounts well while listening to your followers' recommendations. It is suggested to start with Facebook/Twitter. SMO (Social Media Optimization) will bring more traffic and create better awareness.
Always Include a Contact Form
When your visitors are trying to get in touch with you, instead of asking them to launch their email program to send you an email, you should provide an easy-to-find contact form, which makes sending messages to you easier, regardless of the place your visitors are and the device they are using.
Display Well on All Browsers
Considers visitors using other major browsers except for IE, Chrome and Firefox. They will not be pleased by using a site that's forcing them to turn to an alternative because of poor support for the current browser.
Stay Simple with Link Names
Use conventional names for your links so that your visitor knows what to expect after clicking on them. Use more concise words to intrigue visitors to click on them instead of fancy creative words to make visitors think or confuse them.
View Your Site from Visitors' Perspective
Visit your site like a normal visitor to learn their needs. Then, obey the KISS Principle to cut clutter and futile navigation.
Make Important Info Obvious
It is crucial to prioritize all your pages and also, the information that you want your visitors to know. Meanwhile, keep them in a typical location (mostly the top-right corner) so that visitors can find them easily. And here are some typically important information of many businesses that you should create a page for them or put them in an obvious place on your website:
Contact information like phone number, email and address. A direction widget like Google Map may help demonstrate your location clearly.
Business hours
Company biography
Manage Content Well
Develop a Page Hierarchy
Your website must have several different pages. No matter you are going with a simple pattern or a complicated structure, decide it before you start.
Content is Crucial
Content that is poorly written will bring you no good but causing your visitors to leave the site immediately and permanently. Make sure your content is well written, relevant and up-to-date.
Write the Content Yourself
As the owner of your site, you should create the content for it because you understand the message that your website should provide more than anyone. It would be a great investment to get quality content from creative crowdsourcing but you must make sure the people who write the content know exactly what you want and be proficient enough to handle your topic.
Make Text Easy-to-Read
Your text on your website means nothing if your visitor can't read it comprehensively! Sure the text needs to be polished, but instead of showing off your writing skills, you should focus on promoting the readability of your text and don't go too "wordy". Meanwhile, "techy" text filled with jargons should be avoided.
Write about What you Can Do for Customers
It's not about "What You Have", but "What You Can Do for Your Customers". Focus on what your visitors want and tell them how they will benefit from you instead of bragging about the functionality and quality of your products/services.
Prepare Content for Visitors with Different Purposes
Some visitors may just take a glance at your site to get useful basics quickly, while others are seeking details. You need to find a perfect balance between basics and details.
Write Globally & Timelessly
Your visitors may be from all over the world. Make sure the things such as time zone, currency, measurement, etc. are clear to all your possible visitors. Meanwhile, to make your content seem fresh all the time, write timeless content and avoid using words that may date the content.
Add Customer Testimonials/Reviews
How can your visitors know if they should put their trust in you? Putting social proof on your website will help. The testimonials and reviews of your customers are valuable to convince new visitors. Ask your previous customers if you can get their photos to use along with the testimonials and reviews. Sending the prepared testimonials to your customers for their approval is an efficient way. However, building credibility is not something that can be achieved by testimonials that sound fake. If you can't add testimonials that are specific and related to your users, then don't use them.
Go Mobile
Notice that many of your visitors may be visiting your website on mobile phones and tablets. It can be a pain to navigate a site poorly optimized for small-sized screen. There are many affordable tools to create a mobile version of your current website. Do it or hire an expert to do it, otherwise, you'll lose all the visitors from mobile platforms.
Be a Human
Do not intend to make your business look big if it's not. Instead, make your visitors feel connected by telling them your story: why, when, where and how did you build this site, who are working with you, your education background, families, hobbies… everything that makes you more human and make your career more than just making money. Meanwhile, include a good-looking photo of yourself/crew.
Use SEO & SEM Strategies
SEO
You should definitely build and run your site with SEO (Search Engine Optimization) in mind so that your target customers can find you easily via search engines. Start learning basics of SEO and know the important aspects that have crucial influence on your site's ranking in search engine results.
SEM
SEM (Search Engine Marketing) is somewhat important just as SEO, which is a paid search-focused specialty of online marketing. It has several advantages over SEO: SEM is more predictable; the leads from SEM are clear-cut; finishing second/third place can be as beneficial as the first; SEM ads hinge more on how well they are written.
Google Analytics
No matter which you are going for, SEO, SEM or both of them, Google Analytics is a necessity for Google-focused optimization/marketing. Analytics is considered to be the cornerstone of your SEO and SEM strategy, helping you measure the sales and traffic of your site so that you can tell how your current strategy work.
Use Website Builders
Use CMS or Opensource System
You are allowed to use CMS (Content Management System) but usually you may get stuck with a certain company's style and pay a great deal of money. Make sure you compare all of the best ones before making the decision. Meanwhile, opensource systems like WordPress and Magento can bring more diversification and possibilities to your site.
Use Pre-Made Themes
If you can't afford to hire an expert or a whole team to design your website, there are tons of pre-made themes provided by the web host. Choose the one that fits you. However, you should pay for the theme that is excellent enough and AVOID using free themes because they are usually not secure and have been used countless times.
Consider Future Growth
If you are just seeking a plan in a short time to build a small site which will not be changed for a long time, low-cost platforms will do; if you plan to make the website bigger as your business grows in the future, you should start with more capable platforms that won't be outgrown.
Do It with Experts
Hire a Pro/Team
Hiring a pro or a team to build the site for you may cost you much, but what you get is more than a professional website. They will bring experience and expertise that you won't easily get without years of related working. So if possible, let them help you instead of building your site alone. Meanwhile, remember to hire someone who fits your business style – it is recommended to visit the site you are fond of and look for the people responsible for the design.
Learn from Competitors
Are you looking for new tricks to build and promote your site? Maybe your competitors are already using them! Go to their site for inspiration.
Trust the Pro/Team You Hire
If you hire a pro/team to build the site for you, trust them because mostly, they know more and they know better. Drop your arrogant "Employer" attitude and listen to what they got to say. Let experts do what they are good at.
Bonus
Start Right Now
You can't be planning all the time. Start building your site right now so that you will know what is right and wrong. You can't make your business site better if it's only in your mind.
Own Your Domain
Buy an actual domain instead of using free ones from your providers with extensions. "YourBusiness.com" is always better than "YourBusiness.YourProvider.com".
DON'Ts
There are several things that you should not do:
Make Visitors Think
Do not make your visitors think about what to do next – just "provoke" them to do it.
Expect Visitors
Putting your site online will not bring visitors. Lower your expectation on that
Spend All The Money
Websites always need perfection no matter how expensive they are. Consider how to make a return on your investment and do not use up all your money on simply building the site.
Add a Blog or Social Buttons without Managing Them Well
If you are not going to post some quality content on your blog/social accounts, update them regularly or even post anything on them, don't add them at all. Poorly maintained blog/social accounts may lead to lack of trust from your customers.
Try to Please All Visitors
Figure out who are your core visitors of the target market and create the site mainly for them instead of accommodating all types of visitors.
Use Flash
If your site is not one of those that have to use Flash, abandon it for these reasons:
Requires a flash player;
Security issues that can't be ignored;
Doesn't work on all Apple portable devices;
Slows down the browsers and even drags down the performance of your computer;
There are better alternatives.
Expect an Overnight Success
It takes time, money and efforts to build and maintain a good website. Prepare for the months and even years to come while doing your best.